2005/07/15
Development of the "T-182S"-Japan's first vertical centerless internal grinding machine
-A compact, high-precision grinding machine suitable for high-diversity, low-volume production is launched-
---
Toyo Advanced Technologies Co., Ltd., (Head Office: Minami-ku, Hiroshima; President: Kenichi Yamamoto) has developed and will launch the "T-182S," a new vertical internal grinding machine suitable for high-diversity, low-volume production. The T-182S is a centerless internal grinding machine that employs a 2-shoe magnetic vise and is the first vertical type in Japan (according to an investigation by Toyo).
This unit is designed into a compact size, with machine width reduced to 1,350 mm (less than half that of the horizontal type), so the length of a production line for bearings can be reduced by about 40%. Also, the T-182S is equipped with a general-purpose conveyor and swing loader as transfer and loader equipment. This design enables easy setup changes, and provides high flexibility for high-diversity low-volume production. Furthermore, the machine is designed to be user-friendly, with features such as a lift type door to make work easier.
A newly developed high-frequency wheelhead is used for the grinding wheel spindle that is the core of the machine. The wheelhead has an established reputation in the internal grinding machine field, and the output of the high-output type has been increased to a continuous rating of 23 kW. This enables stable, high-precision grinding under a variety of grinding conditions. Furthermore, thermal rigidity has been improved by using a dual head structure and a column cooling system. High-precision high-efficiency grinding is achieved using a work spindle swivel mechanism and other innovations. The system is equipped with the high-functionality interactive "TOYOMATIC-4000" CNC unit, which has earned an outstanding reputation in Toyo's grinding machines.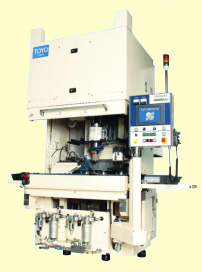 The T-182S vertical internal grinding machine

Toyo Advanced Technologies is a top Japanese manufacturer of internal grinding machines for final finishing of parts, and we have previously developed horizontal internal grinding machines suited for mass production. Due to diversification of the market and other trends, Toyo noticed a significant potential for commercialization of space-saving vertical internal grinding machines suited to high-diversity low-volume production. As a first step in this direction, we have developed the T-182S vertical centerless grinding machine designed for machining products such as medium-sized bearings.
In the area of vertical machines, Toyo manufactures profile grinders used for machining non-circular parts, but this is our first step into the market for vertical grinding machines. At present, we are developing vertical internal grinding machines ranging in size from small to large (including chucker-type models) and we plan to market these one after another.

[Main features of the T-182S]
The T-182S is a vertical centerless internal grinding machine in which the work spindle and grinding wheel shaft are arranged vertically. The system can grind cylindrical parts with external dimensions of 240 mm and an inner diameter of 220 mm. Also, if the column position is offset, it is possible to set the system to external grinding specifications (although switching between internal and external grinding with the same machine is not possible).
Space-saving


| | |
| --- | --- |
| * | The width of the machine body is minimized to 1,350 mm using a vertical layout. This is a reduction of about 56% compared to a horizontal type of the same class. (Width: 1,350 mm, Depth: 2,430 mm, Height: 2,700 mm) |
| * | Space-saving is realized with the total width of 2,350 mm including even the conveyors that form the transfer equipment. Assuming use in an inner ring machining line for taper bearings, line length can be reduced by about 40%. |



Facilitates setup changes and improves ease-of-work

| | |
| --- | --- |
| * | One feature of the vertical type is that it uses a highly versatile conveyor and swing loader because transfer and loading of machined parts can be performed in the horizontal direction only. Even if there is a change in the part being machined, the number of parts to be replaced in the transfer and loader system is greatly reduced, and this reduces equipment costs and time needed for setup changes. |
| * | Hence the system can easily cope with setup changes and line reconfigurations due to variations in production volume and produced parts. |
| * | A lift type door with a wide opening area is used for the machine body cover, and this greatly improves ease-of-work during setup changes and maintenance. |



High-precision, high-efficiency grinding

| | |
| --- | --- |
| * | We have developed new high-output, high-rigidity, high-frequency wheelheads. Three types are available: a 10,000 rpm type with a continuous rating of 23 kW, a 15,000 rpm type with a continuous rating of 14.6 kW, and a 30,000 rpm type with a continuous rating of 22 kW. Outstanding grinding performance is achieved due to the synergistic effect of high output and high rigidity. |
| * | To counteract thermal displacement, the machine employs a dual head structure (which has earned an established reputation in horizontal machines) and a column cooling system that is unique to the vertical type. As a result, even though the system is vertical and thus susceptible to the effects of thermal displacement, it achieves the same grinding precision as a horizontal internal grinding machine. |
| * | The work spindle is equipped with a ± 0.25° swivel mechanism, thereby enabling higher-precision, higher-efficiency machining of straight holes for taper adjustment. |
| * | The vertical type employs "Toyo Adaptive Control (TAC) grinding" - a unique technology from Toyo that has earned an excellent reputation. The system reduces non-grinding time and ensures stability in high-precision grinding. |



Other


| | |
| --- | --- |
| * | For CNC, the system is equipped with Toyo's own controller, the "TOYOMATIC-4000." |
| * | The "TOYOMATIC-4000" is a high-functionality, interactive-type controller and has a diverse range of functions, including the ability to store 39 different programs in memory (thereby improving ease of operation when there are setup changes), multi-face continuous machining, and teaching functions. |