Production
Oil Pump Production
The machining line automated based on robot transfer
We produce a variety of oil pumps. For AT oil pumps for SKYACTIV-DRIVE, we produce all units exclusively at our Higashihiroshima Plant. Since the SKYACTIV technology is recognized in society with a successfully increasing sales volume, we have increased the production capacity for the pump for SKYACTIV-DRIVE. The most difficult challenge in increasing the capacity was transfer automation for the main machining line. We have successfully achieved safe coexistence of operators, machines, and transfer equipment in a limited space while achieving an increased capacity.
One of the most striking characteristics of the transfer system is that even if one piece of equipment within a process is halted, for example, due to cutter replacement, the other pieces of equipment do not have to be halted (specifically, an operator who tries to approach equipment must enter an area where he or she interferes with transfer equipment; in such a situation, a safety mechanism requires the operator to completely and individually break off with the transfer equipment using the appropriate equipment). The robots with a top-class travel speed in the industry have also contributed to the increased production capacity. We will continue to increase the production capacity and enhance labor saving.
The oil-pump production line mainly involves two processes: one for machining the housing cover and the other for assembly. With these two processes directly connected with each other and each process divided into two lines, we efficiently produce two different workpieces at the same time.
In the machining process, we are trying to reduce the manpower through robot-based (automated) transfer and to decrease the number of tooling changes (through program changes that allow setups and changeovers as required). In addition, we perform efficient drilling and pump chamber finishing, which requires high precision, using equipment such as machining centers and eccentric machining equipment developed through the machine tool business.
By thus applying machines that we internally made and our machining techniques to the line, we have achieved high quality and increased the production capacity. We also have a subsidiary in Thailand for local production, which is greatly contributing to our globalization.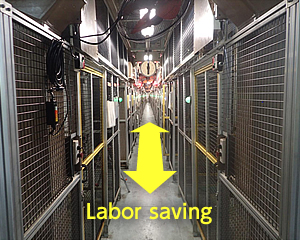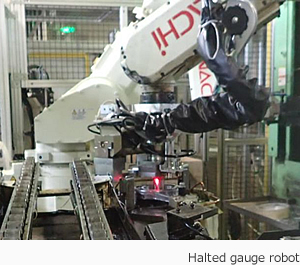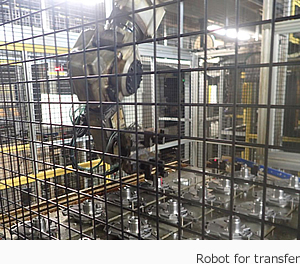 Fuel Rail Production
Mixed production line supporting multiple products
With the fuel rail production line, we produce 100% of fuel pipes for the SKYACTIV- G, a domestic gasoline-fueled vehicle.
Fuel rails are required to be airtight because of their functionality; with each part welded and soldered, we conduct airtightness tests on products before shipment. We perform machining and assembly in the same plant, resulting in reduced distribution costs and appropriate part inventor control.
As a fuel-system component, the fuel rail must satisfy strict anti-contamination requirements. We use air cleaners originally developed by us to ensure that our products satisfy strict inspection requirements. In addition, gasoline rails must endure high pressures because the SKYACTIV engines apply a high pressure to fuel before supplying it. We use a soldering furnace to stably supply high-quality products.