TOYO Retrofit
Give latest features to the machines requiring repair, retired machines, and idle machines.
Personal computers for NC developed in house (from software to keyboard) maintain optimum machining conditions.
The wheel spindle and other units have been provided with higher speed and stiffness, allowing use of CBN wheels, fine-particle wheels, etc. to realize high-power grinding with shorter time.
Combination with optimum wheel dresser allows grinding to any configurations.
Use of latest autoloader and auto measuring devices permits automation or unmanned operation.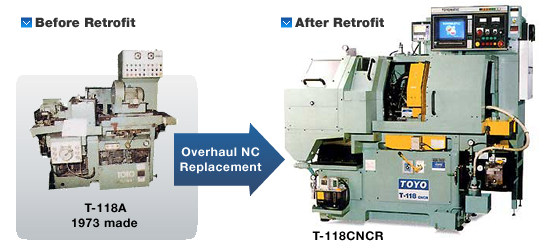 Retrofit Delivery Record

Model
T-107、T-147
T-118、T-159
T-117、T-157
T-128,T-1592
T-235
T-111
T-1151、T-1152
T-122、T-121A、T-123、T-125NC
[ USA ] HEALD ICF91、[ CHINA ] MUSHAKU M250A
Consult us for retrofitted machines.