What Is an Oil Pump?
Heart of the Automatic Transmission
An oil pump is placed inside the transmission to drive the engine to rotate. As an automobile component, an oil pump pressurizes automatic transmission fluid (ATF) to supply oil to the hydraulic actuator and torque converter and to lubricate other components.
We provide high-performance oil pumps that make the most of our proprietary technologies of oil pressure control, torque reduction, and weight reduction. The casted housing cover is accurately and sophisticatedly machined. With an optimally designed oil passage, our oil pumps have high productivity and thus can be made at low costs.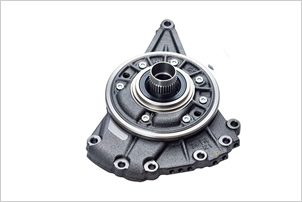 Product Lineup
To respond to the market environment, which is experiencing enhanced regulation of exhaust gas and increasing demand for higher fuel efficiency and higher performance, we are developing technologies for further efficiency improvement and quietness.